First of all, welcome to CryptoCrowd South Africa, the only blog platform you'll ever need to learn more about Bitcoin, Ethereum, and other Altcoins in South Africa. Your question which lead you to this article is "How can I buy Bitcoin in South Africa? Where can I buy it? Is it even legal?" The answers are: Visit ChainEX and buy it. ChainEX. Yes. 🙂
Where can you buy Bitcoin in South Africa?
That's easy. You can buy Bitcoin in South Africa using a reputable cryptocurrency exchange like ChainEX. ChainEX is a secure South African crypto exchange that has so many assets available for you to purchase. Cryptocurrencies like Ethereum, Bitcoin, Bitcoin Vault, XRP & so many others are available for South Africans to purchase because of exchanges like ChainEX. Cool, right? 😌😌
Once you've signed up for a ChainEX account and it's verified, you'll have access to your Bitcoin wallet which you use for your Bitcoin transactions.
You'll then be able to transfer funds from any of the banks in South Africa to your ChainEX account and you can start trading as soon as the funds are cleared. 🙂 Here's how to deposit ZAR to ChainEX:
Okay, but why should I buy Bitcoin on ChainEX?
Taking a step back to the previous years in terms of crypto-currencies, we can see there is a recent significant increasing factor that is responsible for the popularity of the notion of crypto-currency itself. 🙂
As you know, there is a type of cryptocurrency that has captured the attention not just of investors, but also of the general public. We are talking about Bitcoin.
Diversifying your portfolio
You probably have investments in stocks, shares, or even property. Why not diversify your portfolio and include cryptocurrencies? 😄 What makes ChainEX the best crypto exchange in South Africa is the number of tradeable cryptos. With more than 20 digital assets, you have options 😃
The South African crypto exchange has more than 20 tradeable cryptocurrencies on its platform. With Bitcoin on the rise, Ethereum & Cardano gaining traction, what better time than now to invest in cryptos at ChainEX? 😆
You want it, we have it
According to many crypto enthusiasts, 2021 is the best year to invest in cryptocurrencies. There's a huge demand given the pandemic. It's a bull run. Bitcoin rises because of supply and demand!
Supply and demand is the most important factor of cryptocurrency prices. Keep that in mind throughout this entire article.
This is a basic economic principle. If a cryptocurrency has a high token supply with little to no demand from us as traders and users, then the cryptocurrency's value will drop. The opposite applies too, if the supply of a particular cryptocurrency is limited and the demand is high, then the value of the coin will increase. Makes sense?
For example, the scarcity of Bitcoin. There's only 21 million that will ever be in circulation. Have you gotten yours yet? No? Buy some here 😄
When it comes to deciding what crypto to invest in, the choice can be somewhat overwhelming as there are thousands of crypto coins available in the marketplace. But lucky for you, ChainEX has tons of assets to choose from 😁
ChainEX makes it easy for you
Trading on ChainEX is easy 😄 It's no wonder they surpassed 20 000 users. Their quick buy and quick sell feature makes it easy for you to trade faster & more efficiently 😄
Don't get us started on the ChainEX referral program 😀 How many friends do you have? How many people are in your circle? Now imagine if all those people paid you. With ChainEX, they can! Read the three steps to making extra money with ChainEX and your friends 😉
With that being said, now is the perfect time to invest in cryptos on ChainEX. What do you think? 😀
Last question, is Bitcoin legal in South Africa?
Yes, it's legal to buy and sell Bitcoin in South Africa. The South African Reserve Bank (SARS) has issued warnings regarding the risks associated with trading in Bitcoin but there is no actual ban on any form of cryptocurrency trading. SARS makes it clear that any earnings from these trades are subject to taxation.
Cryptocurrency trading in South Africa is currently unregulated but the government is working on a new regulatory framework to more stringently control the cyber-banking industry.
So what's next?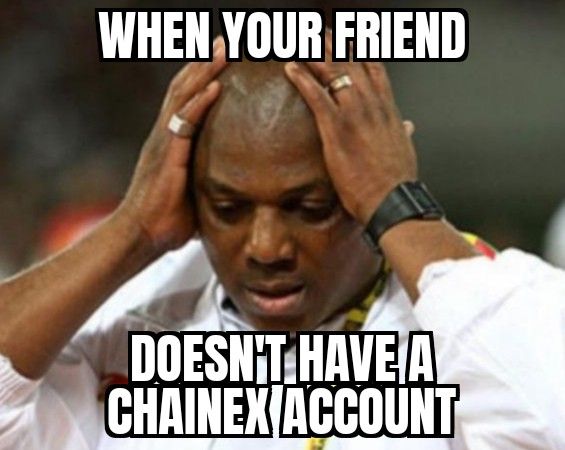 If you're not signed up to ChainEX, get to it! Plus you'll be partnering with what could potentially be the best cryptocurrency exchange in South Africa. I mean, EVERYONE is talking about ChainEX.
ChainEX is a South African digital asset exchange that provides a platform for South Africans to buy, sell, or trade a variety of different digital assets using the South African rand as the default fiat-buying currency.
ChainEX provides you with a secure, online platform from which you can purchase and trade with different digital assets. But you know this already 🙂
It pays to have friends. Literally.
Not only do they provide a platform for you to trade, but they also reward you for the people you refer!
We not only want you to succeed at ChainEX, but we also want you to impact those around you and potentially build your own crypto trading business, we've built the platform to allow you to invite and refer your friends and family to the platform and earn when they trade! For a complete guide on how the system works, read our article on it?
Get to know ChainEX
Who is ChainEX? | FAQ's | Sign Up | Follow Us |ChainEX Markets | ChainEX Security | YouTube | More friends, more crypto
Disclaimer:
All content and topics covered are mere opinions and do not constitute investment advice. Trading and investing in Bitcoin carries a high level of risk. We do not assume any responsibility for actions taken upon reading any of our articles. Cryptocrowd is not a financial advisory firm, nor are we an investment manager.